How to Choose The Best Dining Tables?
A dining table is an essential piece of furniture in any home. It is where the family can come together to enjoy a meal and share some quality time. There are many different styles of dining tables to choose from, so it is essential to find one that suits your needs.

The table size is also essential, as you must ensure it will fit in your dining room.
There's nothing like a beautiful dining table to make your home feel like a luxurious palace. But with so many different styles and materials, finding the perfect one for your home can be tricky. Here's a quick guide to help you choose the right dining table for your space.

The first thing to consider is the size of your dining room. If you have a small space, you'll want to choose a table that doesn't take up too much room. A round table is an excellent option for a small space, as it has no sharp corners.

Next, consider the material you want your table to be made from. Wood is a classic choice, but it can be expensive. If you're on a budget, consider a cheaper option like MDF or particle board. These materials can be painted or stained to look like wood, but they're much more affordable.
Finally, think about the style of your home. You'll want to choose a classic wood table if you have a traditional house.

But if your home is more modern, you might want to opt for a glass or metal table. Once you've considered all these factors, you should have no problem finding the perfect dining table for your home.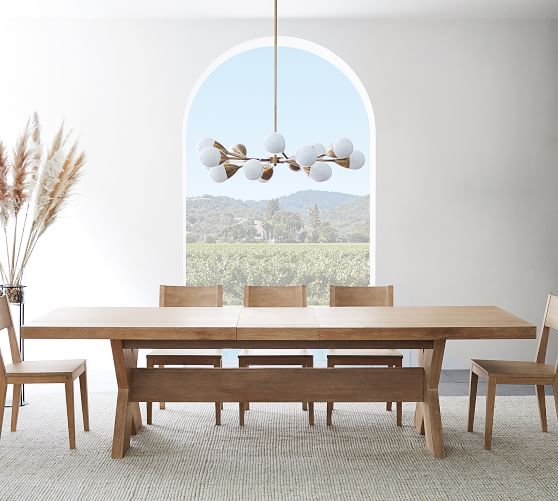 Credit: www.potterybarn.com
Which type of dining table is best?
There is no definitive answer as to which type of dining table is best. However, certain factors can be considered when making a decision. You should consider the table size, material, and style.

The size of the dining table is essential as it needs to be able to seat all of the diners comfortably. A table that is too small will be cramped and uncomfortable, while a table that is too large will be difficult to move around and make conversation difficult. The material the dining table is made from is also essential.

A table made from sturdy material like wood will last longer than a table made from a less durable material. However, a table made from a more delicate material like glass can add a touch of elegance to a room. The style of the dining table is also essential.

A traditional table will usually have a rectangular or oval shape, while a more contemporary table may have a more unusual form. The style of the table should also be considered when choosing chairs to go with it.
How much does the average dining table cost?
How much does the average dining table cost? It is a difficult question to answer as there are many variables to consider, such as the type of dining table, the materials it is made from, the size of the table, and where you purchase it. The average dining table can cost anywhere from $50 to $5,000.

The type of dining table you choose will be one of the most significant factors in determining the cost. A basic, no-frills dining table can be found for as little as $50, while a more elaborate, designer dining table can cost upwards of $5,000. 

A wooden table will generally be more expensive than a synthetic one, and a glass or metal table will typically be more costly than a wooden one. The size of the table is also a factor to consider. A larger table will cost more than a smaller one, but you also have to consider how many people you need to sit around the table.

Finally, where you purchase your dining table will also affect how much it costs. A table from a discount store is likely less expensive than one from a high-end furniture store.
What is an exemplary table size?
There is no definitive answer to this question as it depends on several factors, including the size of your room, the number of people you need to seat, and the style of table you are looking for. However, as a general guide, a good table size for a dining room is around 30-36 inches wide and 60-84 inches long. For a kitchen, a good table size is approximately 36-48 inches wide and 36-72 inches long.

If you are looking for a coffee table, a good size is around 18-24 inches wide and 36-48 inches long.
What is a standard size table?
The standard size tables are typically found in most homes. It is generally made of wood and is rectangular. It usually has four legs and a top that is either flat or has a slight curve to it.

A standard size table typically has a width of 30 inches, a length of 60 inches, and a height of 28 inches.
10 Best Wooden Dining Table Set Design
Dining tables & sets
Dining tables and sets are a necessary part of any household. They provide a place for the family to come together and share a meal. But with so many different types and styles of dining tables and sets available, it can be challenging to choose the right one for your home.

Here are a few things to remember when shopping for dining tables and sets:
1. The size of the table. Make sure to measure the space where the table will go before you buy. You don't want to end up with a table that's too big or too small for the room.
2. The shape of the table. Dining tables come in all sorts of shapes, from round to rectangles. Consider what shape would best fit your space and needs.
3. The material. Dining tables can be made from wood, glass, or metal. Think about what material would best match your home's style.
4. The price. Dining tables and sets can range from very affordable to quite expensive.

Set a budget before you start shopping to know how much you're willing to spend. Keep these things in mind, and you'll find the perfect dining table and set for your home.
Conclusion
A dining table is typically used for sitting down to eat breakfast, launch, and dinner. However, You can also use dining tables for other purposes, such as working on a laptop or playing games. No matter what your style or budget, there is a dining table out there that is perfect for you.